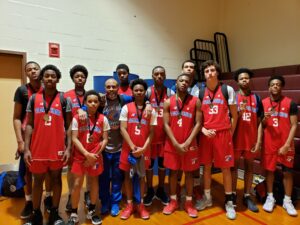 The Foundation of Team Choo was established by this group of young student athletes (Daquan Bracey, Devin Smith, Kani Coles, Dwayne Banks, Christian Chong Qui, Charles Okehie, Joe O'Dwyer,, Raine McKeython, Jesane Phillander, Tremaine "Rock" Tazewell,  Mike Westbrook, Keyshawn Henry, Devin Mosley, and Nick Tate). In our inaugural season the 17U boys team won three championship games in Zero Gravity Tournaments, and made it in the elite eight in Pitt Jam Fest, Spooky Nook and the Bigfoot Hoops Las Vegas Classic
Daquan Bracey and Devin Smith led this team and was the catalyst for their great season.  Daquan, a high major college recruit (Louisiana Tech) signee was amazing.  He dominated the opposition with his basketball skills.  He dominated the opposition with his skills and high basketball IQ.  Daquan averaged 18 pts, 6 assists, and 2 steals per game.
Devin Smith, another high major talent, just received an offered (summer 2016) by New Mexico State.  Devin has a great off the dribble game.  He a great ability to score and distribute the basketball.  Devin is an understated defender who can lockdown his position.  Devin averaged 12 points, 4 assists and 1.5 steals per game.
Kani Coles a 6'7" Small/ Power Forward (Central Florida) signee.  He is another high major talent who can jump to the moon.  Kani has a great power game on both ends of the floor.  Kani averages 10 points, 10 rebounds and 3 blocks per game.
Jordan Jones, a 6'8" Center is a mid-major talent (Charleston Southern) signee was the true man in the middle.  Jordan has a top shelf motor from rim to rim good athlete.  Jordan averages 9 points, 8 rebounds and 3 block per game.
Dwayne Banks, a low major talent (South Carolina State) signee.  Dwayne is a big time on-ball defender.  Dwayne ran the team with a great pace, very good mid-range shooter.  Dwayne averages 8 points, 5 assists and 1 steal per game.
The inaugural  17U Team Choo started the program off with a huge bang.  Five of the 12 Team Choo players went onto receive Division 1 athletic scholarships, Two Team Choo players received Division 2 athletic scholarships, Two Team Choo Players received Division 3  athletic scholarships and two Team Choo athletes received Junior College athletic scholarships.